Gauche Alchemy October Challenge
Hello everyone! Today I wish to share with you a very special project... I had so much fun making it, and I love the result!
This is a project for the October Challenge at Gauche Alchemy. The girls called it "October Lunar", so as the title says, it's about the moon and Georges Méliès' movie called Voyage dans la lune (1902). Here you can see this challenge's moodboard: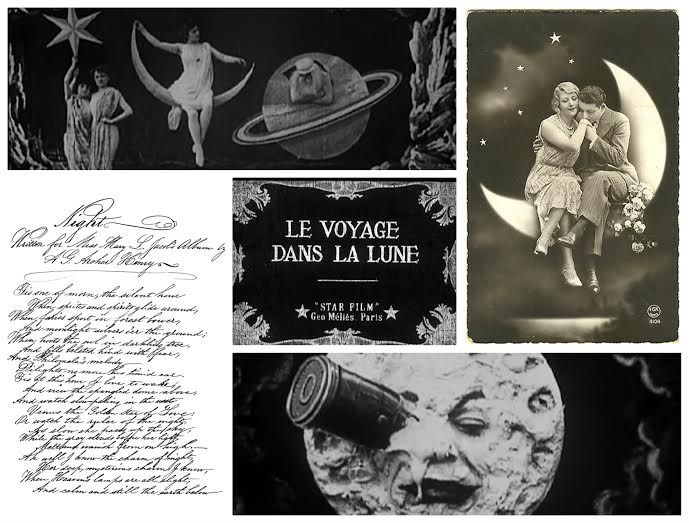 Voyage dans la lune was the first movie ever made that included special effects and fantastic imaginery (as Méliès used to say, la féerie), and a world full of magic, dreams and enchanted creatures.
I've started to appreciate his work from the moment I encountered his movies two years ago as I went to an exhibition by La Cinémathèque française in Barcelona. The exhibition was called "The magic of cinema", which included drawings by Méliès, projections of his movies and all kind of scenography props along with dresses and original photos.
I was amazed by Méliès work and creativity, and I quickly searched for Hugo Cabret movie. Since then I like to include his cinematographic aesthetics onto my works, and when I found out Gauche Alchemy's challenge I thought 'now's the time for a big project'.
My first thought was to make a shrine inspired by Méliès' life, but then the project transformed into something much bigger.
This is how
Le Petit Thèâtre Méliès
was born.
In order to build my theater I started using a cardstock box, paper and some decoupage medium. Then I printed out the characters directly from the movie frames. They were in black & white, so I painted them with some distress inks. As a matter of fact, Méliès used to paint by hand each and every frame one by one.
I choosed as my principal heroines the lovely mermaids, Mrs. Moon and Mrs. Sun:
and, of course, the Moon, symbol of Méliès great work:
I'm so happy with this project, and it makes me realize how much I love building little paper theaters! I think this will be the first one of many more to come.
I really hope you like it!! If you are interested in Méliès, here you can find all kind of information (it is in french, but it's the official site).